Event booking calendar: logic and advantages
The calendar function and the types of events
The beating heart of every event management system is the calendar. Jolie's calendars guarantee flexibility and ease of use in the management of different types of events, such as:
– press events and interviews
– test drive
– multi-brand events
– masterclass
– briefing
– lunches and dinners
– exhibitions
– appointments with professionals / consultants
The advantages
You can say goodbye to phone bookings and save on administration time and resources. Jolie enables the user to book online independently. Once the booking is complete, the system sends the user an email summarizing the reserved slots. Another email is scheduled to be sent a few days before the event, to minimize the risk of defections.
Define your calendar
By accessing the administration panel it is possible to set:
– The attributes of the calendar: name, description, duration and capacity of the slots
– Calendar activation / deactivation (make the calendar invisible for as long as you want, without deleting it in the system)
– Integrated zoom link for each slot, in case of online events
– Calendar duplication (to transfer the same logics from one calendar to another)
The groups of calendars
With Jolie Lite you can manage multiple calendars within a single event, grouping them by sections.
The groups of calendars are designed to respond to different compulsory logics. If necessary, you can impose a minimum and maximum number of bookings per calendar, as well as establish any participation obligations. The system will then guide the user to respect the registration limits imposed by the logic through alerts.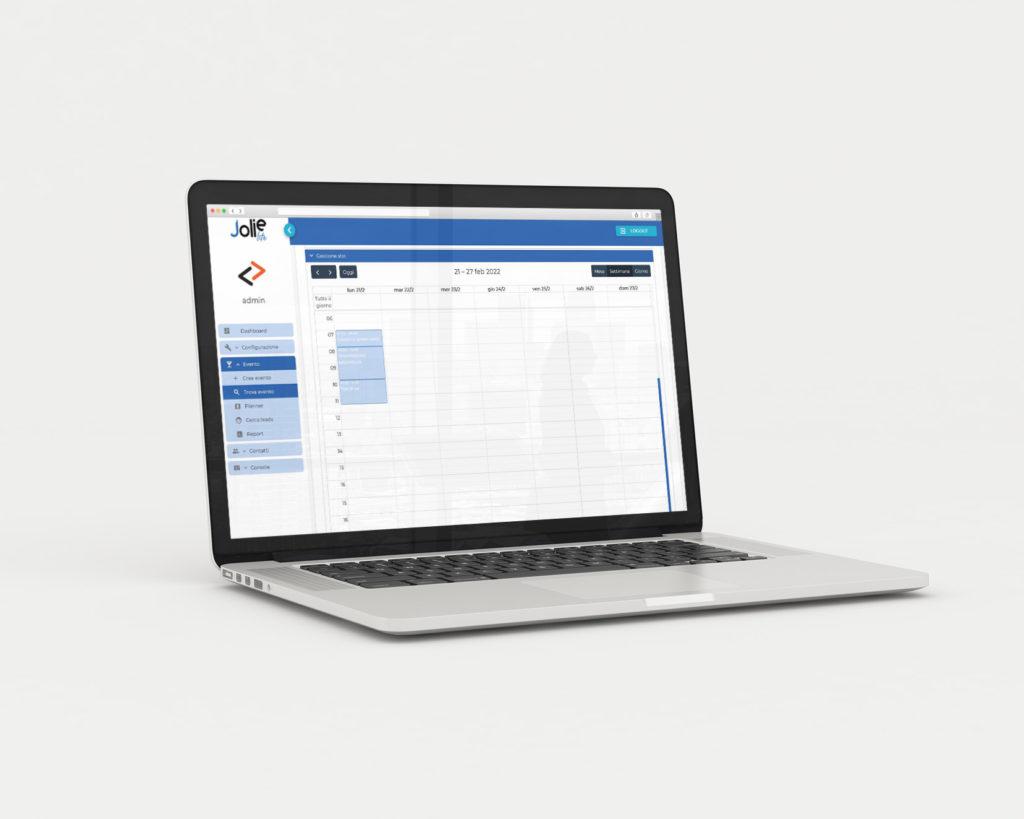 Let's give an example: test drives
If you want to manage the participations in a test drive of multiple car models, you can set the mandatory participation in at least one test drive and impose a maximum limit in booking the number of cars to be tested, to avoid unnecessary overcrowding. For the same event, you can simultaneously manage the lunch / dinner calendar, removing the obligation and imposing a maximum number of meals that can be booked per user.
The system will block the user who tries to book slots that do not correspond to the logic set in the system, establishing the same rules for everyone. The event will thus be easier to manage, errors, overcrowding and waste of time and resources will be avoided. The console allows you to check all the calendars in the group at the same time or on one calendar at a time.
Have we intrigued you?
If you think that the organization of calendars in Jolie can meet your organizational needs, but you want to see how the system for the event you have in mind works, ask for a free demo.