Why you should create online surveys
Creating surveys is essential to collect and analyze key information about the habits and needs of a potential customer.
Why to choose online surveys?
Creating online surveys guarantees a series of advantages. Among them:
Speed
The time to complete an online questionnaire is significantly less than the one required for traditional research methods, moreover the automatic collection of information ensures that the answers are instantaneous.
Simplicity
The online survey allows the user access at any time of the day and, if well set, guarantees an easy and quick compilation process.
Convenience
Online surveys cut research costs. It will not be necessary to transfer the answers to a database, as the answers are managed independently and the results are immediately accessible.
Immediacy
The results collected from an online survey are immediately ready to be processed; it is possible to create intuitive graphs for the generation and export of reports.
Accuracy
Online surveys reduce the possibility of mistake thanks to the direct upload of the users's responses into the system. In fact, the intermediate data enter by staff members (where the probability of reporting incorrect data is higher) is no longer needed.
The Peritus e-survey
Peritus has created a highly flexible and customizable online survey system. It is a web application designed for normal and / or multibrand companies, which allows to census all the companies of the group and to associate one or more profiles that can access the system and manage surveys independently.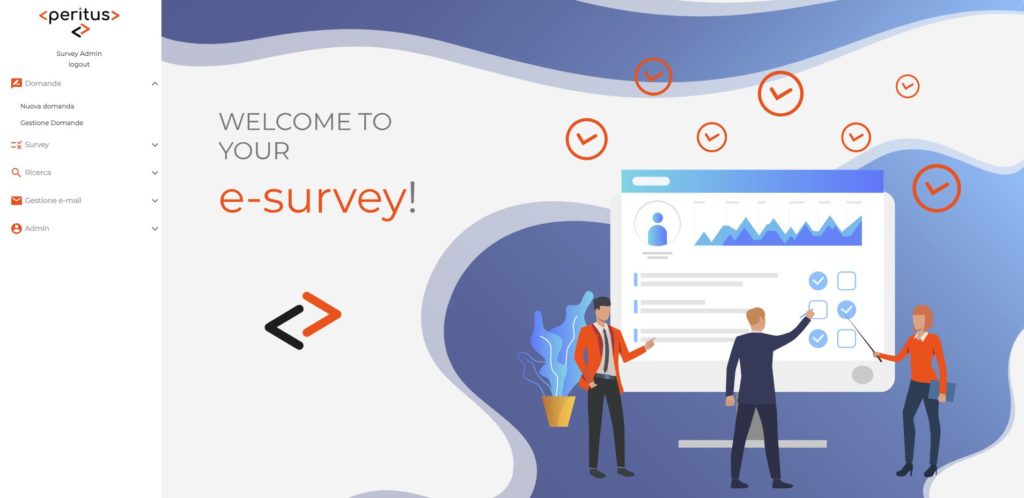 The system provides a series of different questions: single answer, multiple answer, rating scale, single answer matrix, multiple answer matrix, open answer, date fields, section descriptions and more. The generated questions can be filtered by description and type.
The questions created flow into the survey, which can be configured with or without an invitation. In the first case, the names can be imported via Excel file. If, however, the invitation is not provided, the survey can be completed by clicking on a link, which may be anonymous or not. Surveys can be associated with different types of templates, in addition to a series of operations, such as: the export of statistics, the display of the distribution graphs, the export of the pdf, the cancellation, the display and the export of the answers.
The e-survey platform then manages the invitation e-mails for compilation and those for reminder. The system is integrated with the Mandrill e-mail sending service (certified TRUST and Privacy Seal), which allows access to a data visualization dashboard regarding e-mails sent, delivered and read.
In conclusion
Knowing the needs of your customers is fundamental in the current market; intercepting them in a simple, quick and safe way guarantees an extra gear to your business. Our efforts have gone in the direction of a complete, intuitive and highly customizable platform, adaptable to any type of corporate. For information and demos, do not hesitate to contact us!